FROM PUSH TO PULL – DIGITAL COMMUNICATION AS A FACTOR FOR SUCCESS
In today's digital age, key communication and corporate targets can only be met by taking an integrated 360° approach to communication. We are convinced that the cross-discipline and cross-departmental mindset of a content marketing agency is absolutely essential for a successful communication support and, ultimately, for achieving a consistent and convincing presence for your company, brands and products. To ensure that decision-makers and consumers are being addressed appropriately at every touchpoint of their individual customer journey, we use a wide spectrum of relevant digital communication disciplines.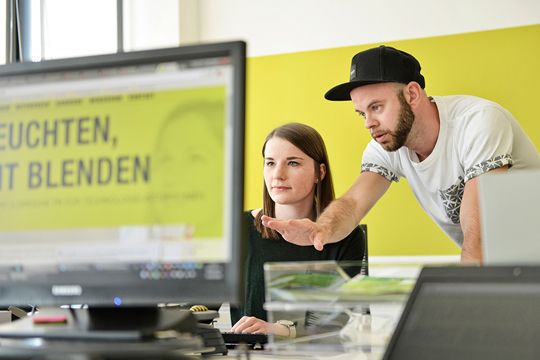 Whereas traditional push actions remain effective in media relations and direct marketing, digital relations require user-centred pull strategies. That is why we, as a content marketing agency, focus on inbound marketing. We are the communication agency for creating user-centred digital content and its distribution via targeted content marketing, social media seeding, native advertising or selected performance marketing measures.
USING CONTENT MARKETING TO ACHIEVE THE NEXT LEVEL OF COMPANY AWARENESS
Do you want to take your corporate communication to the next level and are looking for a sparring partner who also offers consulting and content marketing services? Does your company already work with a defined communication strategy, but lacks a content strategy? Are you in need of an integrated, cross-departmental approach for digital communication activities and would like to convince all those involved (including your boss) that content governance is the way forward? Then you've come to the right place!
CONTENT STRATEGY TO ACHIEVE A CONSISTENT PRESENCE ACROSS ALL MEDIA
Before we, as a communication and content marketing agency, begin to develop a digital strategy for your business, we examine your company's current digital footprint. As part of an initial analysis, we take on an integrated, cross-media mindset and identify potential for optimisation as well as any weak spots.
We shine a spotlight on your website and the overall online visibility of your business and evaluate the content we find there – including comparing it to competitors. Among other things, this analysis allows us to determine:
Which keywords should be used to find your company using a search engine?
What do the current search engine results look like in comparison to your most important competitors
What content is offered to your target groups and marketing personas on your website, landing pages and your corporate blog? (Owned media audit)
Which social media channels do you currently serve and with what content? Is it possible for visitors to recognise channel pledges?
Where on the Web is your company being talked about, and by whom?
We use the findings to develop a well-founded content strategy, which not only represents the basis for successful content marketing activities, but also has a major influence on your communication in total.
WITH ALL DEPARTMENTS SET ON A DIGITAL COURSE, YOU CAN'T GO WRONG
On your behalf, we develop a digital and content strategy as well as measures that…
are tailor-made for your company,
merge with your offline domains to the greatest possible extent,
meet requirements from Marketing and PR, as well as from your colleagues in Sales, Support and HR.
We manage the relevant communication disciplines and create the perfect mix of owned, shared, earned and paid media. Moreover, we use appropriate content seeding and promotion to ensure that relevant content actually reaches representatives of the right target groups. We are always on top of the latest requirements in relation to editorial and technical SEO.
But what it really comes down to for us (not only) as a content marketing agency?
Seamless integration of digital activities with the measures from other communication areas, and implementation across all medi
Use of synergy effects – across all departments, disciplines and platform
Sensible and realistic KPIs
PARTNER NETWORK INCLUDED: 360° COMMUNICATION FROM A SINGLE SOURCE
Taking an integrated approach to successful 360° corporate communication is a challenge for all those involved – both in terms of content and from a technical perspective. We are a competent partner with far-reaching expertise – but we recognise that we cannot do it all by ourselves. We do not make recommendations unless we are convinced ourselves and you will not catch us making any false promises. In areas that fall outside our core competences, we work hand-in-hand with trusted partners, who share our high quality standards. For example, we enjoy a close partnership with Schalk & Friends, whose offices are next to ours in Munich.
SERVICES: DIGITAL RELATIONS AND CONTENT MARKETING
Owned media audit
Key word analysis
Digital and content strategy
Landing pages, microsites
Social media relations

Guidelines, playbooks
Platform concepts and management
Social media marketing and campaigns

Community management
Content creation / maintenance – text, image, rich media
Content seeding, content promotion
Influencer communication and marketing
Blogger relations, blogger marketing
Training courses / workshops