MODERN PR MONITORING: INTEGRATED, EFFICIENT, COMPREHENSIBLE
PR monitoring that takes the entire cross-media communication mix into account places high demands on PR controlling managers and analysis tools. The range of tasks extends from coverage tracking in online and print media, monitoring selected social media channels, campaigns and content tracking and social listening, right through to comprehensive web monitoring. We gladly support you in developing and implementing a requirement-based monitoring model combined with efficient processes for your company.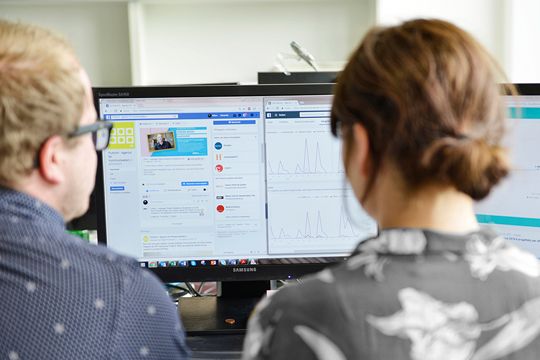 SUCCESSFUL PR HAS MANY FACETS: BRAND AWARENESS, BRANDING OR LEAD GENERATION?
Communication can significantly add value to businesses and helps achieving corporate goals. To determine the effectiveness of individual measures, campaigns and the return on communication (ROC), professional PR success monitoring is indispensable. Depending on the goals – be it increasing brand awareness, changing the company's image, or generating leads, for example – this includes analysing your own website using Google Analytics or Sistrix as well as classic media monitoring, and consistently monitoring blogs, forums and social networks.
TAILOR-MADE MONITORING SOLUTIONS FOR YOUR COMPANY
Unfortunately, there is no 'one size fits-all' model, no one true dashboard, nor any universal key performance indicators (KPIs) for determining the return on communication (ROC) of integrated 360° communication. That is why we do not give standard recommendations or exclusively work with certain service providers or tools.
Our approach focusses much more on meeting the individual PR monitoring, PR evaluation and PR reporting requirements of a company. Using an extensive check list, we work together with you to analyse the internal requirements, goals and reporting needs of the various stakeholders within your company. There are several key questions here:
What purpose does the PR monitoring serve?
Who are the target groups of the PR reporting? Who receives the results?
What are the objectives of the monitoring, and how will the results be used?
How much importance and what priorities are attached to this area?
What are the available resources?
Which functional and technical requirements exist for tools, dashboards, etc?
In the next step, we define the specific criteria and appropriate KPIs for your PR controlling. Only then do we select the perfect service provider and tools for you from our pool of trusted partners and tried-and-tested tools. We also constantly evaluate new and interesting providers and services.
SCOPE OF SUCCESS MONITORING – SOMETIMES LESS IS MORE
It is particularly important for us to providing you with a manageable scope and efficient processes – also keep budgets in mind. We do not advocate 'over-evaluation' and are convinced that even lean documentation and reports can convincingly convey the return on communication. How does that work? By listening to you carefully, not documenting 'superfluous' data, and presenting you with the results in an understandable way. This results in meaningful reports, presented in comprehensible formats that provide the various stakeholders within the company with the information relevant to them at the required intervals.
SERVICES: PR MONITORING
Whether you require ad-hoc or continuous monitoring, we provide targeted documentation and analyses, which guarantee a regular review of the return on communication and form the basis for a successful communication work.
Analysis of the framework conditions, determination of requirements, consulting
Provider evaluation (services, tools)
PR monitoring, media monitoring – online and offline
Social media monitoring
Dashboard management
Documentation and reports
Analyses and recommendations for action