WORKING WITH OUR PR AGENCY
We are convinced that the quality of our relationships with colleagues, clients, business partners and media representatives, along with widespread communication expertise and service quality, is crucial to our long-term success as a PR agency. Mutual respect, trust, reliability, integrity and fairness characterise life at our agency and working with our PR agency. They are a requirement for us and guarantee respectful long-term collaboration both internally and externally.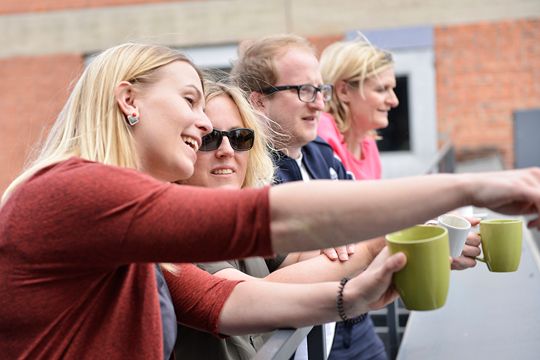 WHY IS TEAM SPIRIT SO IMPORTANT TO US?
Our work requires plenty of identification, dedication, flexibility and endurance. We are passionate consultants and service providers – Flutlicht clients can always fully rely on us. We are external team support, daily sparring partners and firefighters when it is needed most. With conviction and complete dedication. To fulfil this role to a high standard, we attach greatest importance to a strong team spirit. Not only between Flutlicht employees but also with our customers and partners. 
WHAT MAKES US SPECIAL AS A PR AGENCY?
We love our agency life and are proud of our clients and our business success. Sales and image-boosting brand names at any cost are not our thing, however. We place far more value on long-term relationships and high-level communications work, paired with a mutual respectful and pleasant collaboration. This includes the right chemistry, team spirit and trusting partnership on eye-level. 
We never lose sight of an objective – and sometimes critical – external perspective. In case a potential client is simply looking for a pure fulfilment centre we might not be the right choice. However, if you are looking for a reliable and strategic sparring partner who is proactive and constantly thinks along then we might just be the perfect agency for you.