360° Communication Consulting
We provide successful communication consulting services for technology related companies based on tailor-made strategies. Following a 360° communication approach implies that we have our eyes on all the communication disciplines that are decisive for successfully hitting your targets in today's digital era. As part of this approach, we provide our B2B and B2C customers with support in establishing – or even transforming – their image, positioning their company, brands and products, as well as increasing the level of awareness and trust among the relevant target groups. By creating content that is tailored to each specific target group and providing the appropriate content marketing, we help increase visibility, website traffic, lead generation and conversions.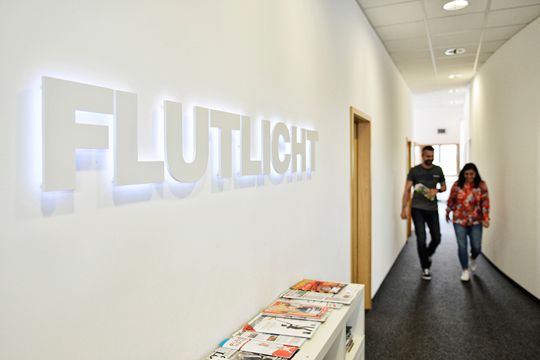 In our daily business we use a well-chosen mix of classic public relations and digital relations. We integrate a variety of different measures in the most effective way to provide corporate decision-makers and end consumers with relevant information and value-added content at all stages of their customer journey. To that effect, our agenda includes a wide spectrum of online and offline activities, just as you would expect of a modern 360° corporate communication strategy. This includes media relations and influencer relations, social media management and corporate publishing in addition to digital communications, content marketing, trade fairs and events. We are also a competent partner when it comes to employer branding.
ANALYSIS, COMMUNICATION CONSULTING, CONTENT STRATEGY: TAKE OFF!
Flutlicht supports your business by analysing, consulting and training. When we start working with you, we take a close look at the status quo of your corporate communications, ranging from previous marketing and PR activities through to the content and content formats that your company provides for your interest groups via different channels, such as websites, social networks or classic media relations. We also study the public conversations that you hold with your target groups and communities, and identify any potential for optimisation. Our communication consulting services are based on the results of these studies. If required, we work together with you to develop communication targets and concepts that are centered along a content (marketing) strategy and storytelling for different target groups and marketing personas. Creative campaigns and operative measures are derived from this, which we always make sure are realistic, keeping your available manpower and financial resources in mind.
TRAINING AND WORKSHOPS
We gladly share our know-how and experience to advise you how to interact with journalists and bloggers as well as everything you need to know about professional social media relations and employer communication. We can also help to prepare you for specific interview situations and provide you with the tools you need to portray yourself authentically and successfully.
WE DO A LOT – BUT WE CAN'T DO IT ALL OURSELVES: OUR PARTNER NETWORK
Successful strategic communication in today's digital age is a challenge – both in terms of content and from a technical perspective. That is why it is simply not possible to consider and plan activities from different communication disciplines in isolation. This is why we offer a very broad range of communication consulting services. However, in areas that fall outside our core competences, we gladly pass on to the experts from our established partner network.
SERVICES: COMMUNICATION CONSULTING
360° communication consulting services, strategic communication
Communication and target group analysis
Development of buyer / marketing personas
Content strategies, content marketing strategies
Communication concepts, creative concepts
Positioning workshops and corporate profiling
Executive profiling for executives and top management
Crisis communication and training
Media and interview training
Public speaking training